Watermelon Party Pizza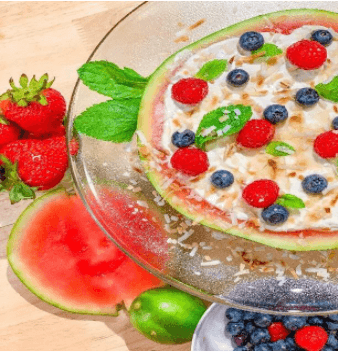 SERVES:
6 portions
RECIPE TIME:
20 Minutes
Additional Tips:
Sprinkle with additional toppings such as fruit compote, chia seeds, granola, or basil leaves for a fun twist and a pop of colour!
For those with sensitivities or allergies, try using your favourite fruits like mango, peaches, strawberries, or blackberries instead, or dairy free cream cheese and yogurt to make this suitable for your family.
What you need:
1 Watermelon, Large
1/4 Cup Vanilla Greek Yogurt
1/4 Cup Raspberry
1/4 Cup Blueberry
2 Tbsp Shredded Coconut, Toasted
4-6 Mint Leaves, Torn
Drizzle of Maple Syrup
What to do:
Make sure you wash your hands before you begin.
Wash all fruit and outside of melon before beginning.
Place the watermelon on its side to slice vertically downwards into 1-inch-thick, even slices. Each of the slices should resemble the base of a pizza.
Place a watermelon slice on a plate or board and spread on an even layer of Greek yogurt.
Add berries to top your pizza, along with coconut and mint leaves for a splash of colour! Spread evenly for a taste of everything in each bite! Finish with a drizzle of maple syrup.
Slice into 6 even triangles as you would a normal pizza. Serve, and enjoy!