Watermelon & Feta Salad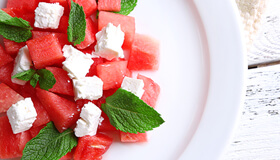 SERVES:
6 portions
RECIPE TIME:
10 - 15 Minutes
What you need:
3 Cup Cubed Watermelon
1 Cup Feta Cheese, Crumbled
What to do:
Make sure to wash your hands before you begin.
Wash the outside of the melon thoroughly as harmful bacteria on the outside of the melon can contaminate the fruit when slicing.
Cut watermelon into cubes.
Crumble the feta cheese.
Gently combine the watermelon & feta cheese, or serve separately.
Serve a big spoonful to each person as a side salad.