Watermelon & Feta Salad
Fork Facts:
A watermelon is made up of 92% water, hence the name! This sweet fruit helps ward off dehydration and combats the heat while providing a refreshing guilt free snack!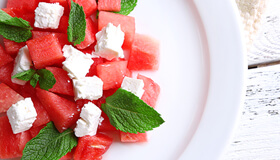 SERVES:
6 portions
RECIPE TIME:
10 - 15 Minutes
Palate Profile
Peppermint can easily be grown at home in your kitchen window. Not only does it smell nice, but you will have fresh mint to sprinkle on salads and enjoy in iced tea!
Additional Tips:
Try adding lemon juice, red onion and fresh mint to electrify your taste buds!
For another interesting approach on this salad add arugula and dress with your favourite balsamic glaze!
What you need:
3 Cup Cubed Watermelon
1 Cup Feta Cheese, Crumbled
What to do:
Make sure to wash your hands before you begin.
Wash the outside of the melon thoroughly as harmful bacteria on the outside of the melon can contaminate the fruit when slicing.
Cut watermelon into cubes.
Crumble the feta cheese.
Gently combine the watermelon & feta cheese, or serve separately.
Serve a big spoonful to each person as a side salad.