Veggie Pad Thai
Fork Facts:
Pad Thai may actually not be a Thai dish at all! There are rumors that it is actually a Chinese dish, evident in that
its full name "kway teow pad Thai" is actually in a Chinese dialect and means "Thai-style stir-fried noodles."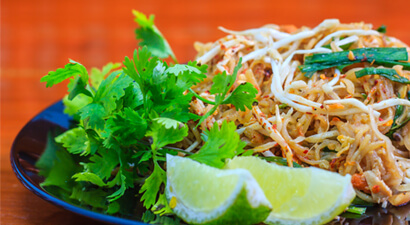 SERVES:
6 portions
RECIPE TIME:
10 - 15 Minutes
Palate Profile
Try topping your Pad Thai with cilantro and freshly squeezed lime juice for a more authentic and flavourful taste!
Additional Tips:
Want to add a bit of spice to your noodle dish? Use chili flakes or Sriracha hot sauce to pack that extra punch!
When cooking rice noodles you may want to slightly undercook your rice noodles and soak them in cold water! That way, when they soak and absorb moisture from the other ingredients, they won't become mushy and overcooked!
What you need:
1 ½ Cup Rice Noodle, Dry
2 Tbsp Veggie Oil
2 Cup Diced Tofu
2 Tbsp Minced Garlic
½ Cup Diced Onion
½ Cup Diced Carrot
½ Cup Broccoli
½ Cup Diced Tomato
¼ Cup Soy Sauce
2 Tbsp Tomato Paste
1 Tbsp Vinegar
2 Tbsp Lemon Juice
1 Tbsp Minced Ginger
What to do:
Make sure to wash your hands before you begin.
Heat large pan over medium heat. Add veggie oil and cook tofu for 5 minutes or until browned on all sides. Set aside.
In a bowl mix soy sauce, tomato paste, vinegar, lemon juice, garlic, and ginger to create a sauce.
Heat large pan over medium heat. Add veggie oil and cook garlic and onions until translucent.
Add carrots, broccoli, tomatoes and sauce. Cook for 5-10 minutes.
Mix in tofu and cooked noodles to the pan of veggies and toss until warmed through.