Vanilla Chia Pudding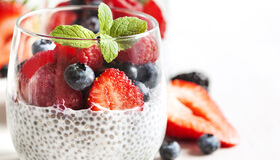 What you need:
2 Cup Milk
¼ Cup Chia Seeds
½ Cup Yogurt
1 tsp Vanilla
What to do:
Make sure to wash your hands before you begin.
In a medium bowl, whisk together milk, chia seeds, yogurt and vanilla.
Cover and refrigerate overnight, or for at least 2 hours to thicken.
Serve the thickened, chilled pudding in a small glass.
Additional toppings that can give your pudding an extra kick: maple syrup and fresh fruit!