Turkey Tagine
Fork Facts:
A tagine is a North African dish which is named after the ceramic pot in which it is cooked in. The cooking pot comes in two pieces of thick stoneware. The bottom piece is a large, flat-bottomed bowl and the top piece is domed or fluted, and it is designed to nest inside the bottom piece, creating a seal. Together, the two pieces make a clay oven that would have traditionally been placed into an open fire for cooking.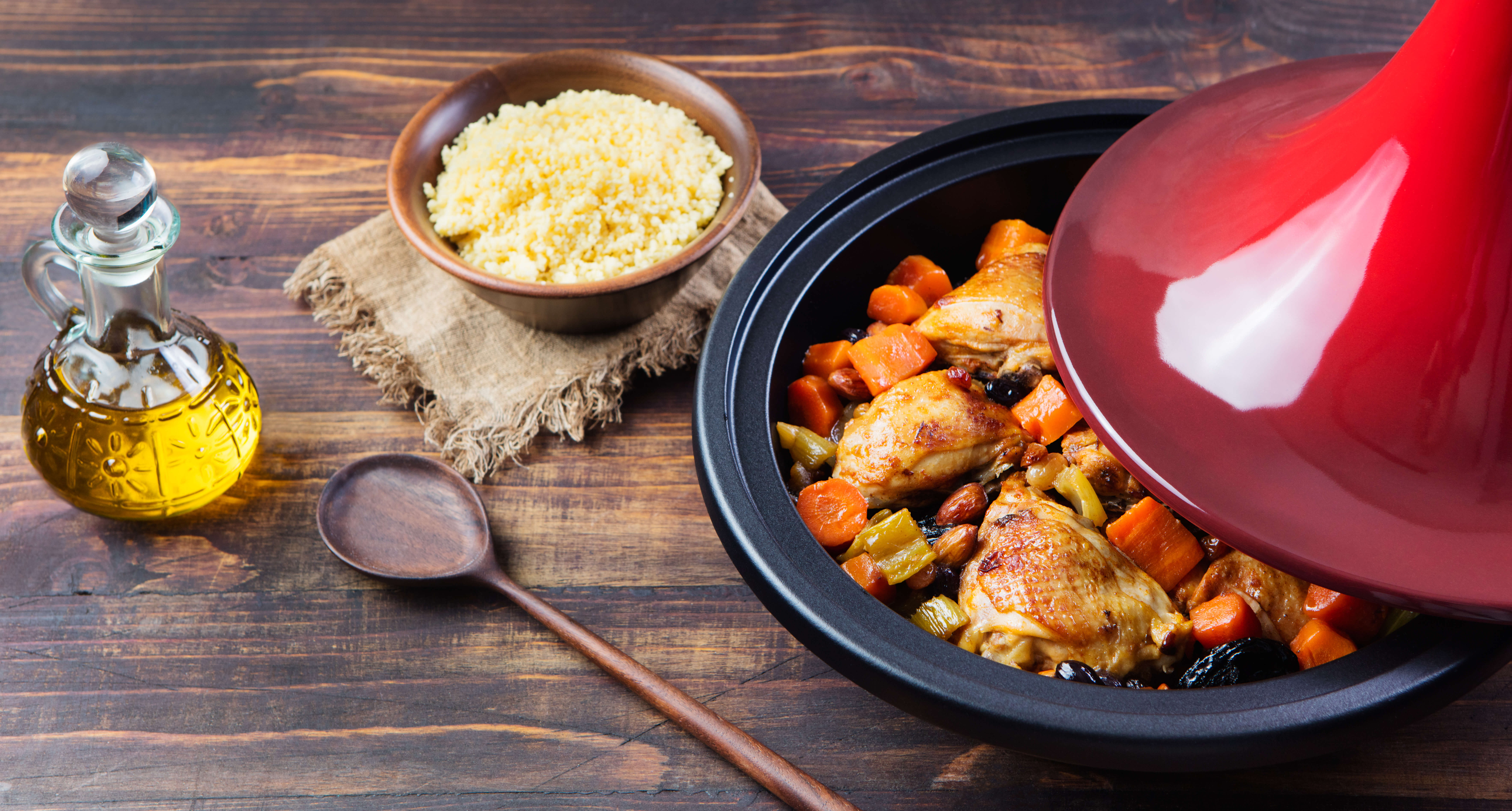 SERVES:
6 portions
RECIPE TIME:
20 - 30 Minutes
Palate Profile
A tagine is a type of stew that includes ingredients that slowly cook at low temperatures. Depending on the origin of the tagine, the spicing of the dish varies widely, but typically include meat, vegetables, beans, dried fruit and various grains. After several hours of cooking, the ingredients are extremely tender and very intensely flavoured. Tagine is often served over rice or scooped out of the dish with hunks of bread.

Additional Tips:
The tagine cooking pot could be used as a roasting dish and then be carried straight to the table as an elegant serving piece.
Common spices used in tagine dishes include, but are not limited to, ginger, cumin, turmeric, cinnamon, and saffron.
While our recipe uses cranberries, other dried fruits that can be used in this dish are raisins, apricots and figs.
What you need:
2 lbs Ground Turkey
1 Tbsp Olive Oil
½ Cup Diced Onion
1 Tbsp Minced Garlic
1 tsp Minced Ginger
1 tsp Paprika
1 tsp Turmeric
1 tsp Cumin
¼ tsp Cinnamon
1 Cup Veggie Broth
½ Cup Chickpea
½ Cup Diced Tomato
¼ Cup Cranberry
What to do:
Make sure to wash your hands before you begin.
Heat oil in large pan and add turkey. Cook until no longer pink.
Add onions and garlic and cook for an additional 10 minutes, stirring occasionally.
Add spices, stir and cook for another 2 minutes.
Add veggie stock, tomatoes, chickpeas and cranberries.
Bring mixture to a boil and then turn down heat and simmer for 15-20 minutes.