Turkey Bolognese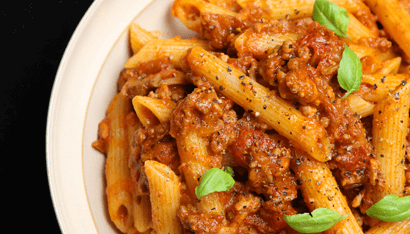 SERVES:
6 portions
RECIPE TIME:
40 - 60 Minutes
What you need:
1 ½ Cup Whole Wheat Penne Pasta, Dry
1 Tbsp Veggie Oil
2 lbs Ground Turkey
1 Cup Diced Onion
1 Cup Diced Celery
1 Cup Diced Carrot
2 Tbsp Minced Garlic
2 Cup Tomato Sauce
1 Cup Diced Tomato
2 Tbsp Basil
1 Tbsp Oregano
What to do:
Make sure to wash your hands before you begin.
In a large skillet heat veggie oil over medium heat. Add the ground turkey, onions and garlic and cook until browned.
Add all remaining ingredients. Simmer sauce for 30 mins – 1 hour.
Cook pasta al dente.
Portion pasta and pour meat sauce on top.