Tomato Basil Soup
Fork Facts:
The word restaurant means "something restoring", and the first documented restaurants were street
vendors serving soup. Originally presented as a physical exhaustion antidote, we still use soup for similar
reasons today serving it as a remedy for the common cold and flu.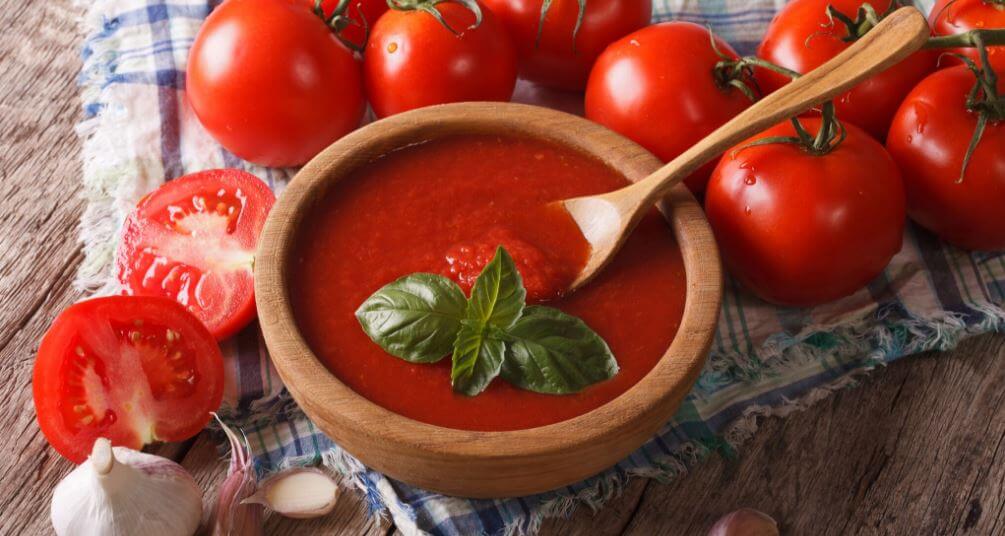 SERVES:
6 portions
RECIPE TIME:
30 Minutes
Palate Profile
This soup once blended should be nice and smooth. Reserve some of your chopped basil to sprinkle as garnish when served. The brown sugar is to help balance the acidity in the tomatoes.
Additional Tips:
If you find the soup too sweet add fresh lemon juice. The acidity from the lemon will balance any sweetness as well as adding a fresh pop!
What you need:
4½ Cup Veggie Stock
1 tsp Veggie Oil
1 Tbsp Minced Garlic
1 Cup Diced Onion
¼ Cup Diced Tomato
½ Tbsp Brown Sugar
¼ Cup Tomato Paste
1 Tbsp Chopped Basil
What to do:
Make sure to wash your hands before you begin.
Prepare soup broth (only if using condensed broth).
In saucepan, heat oil over medium; cook onions and garlic, stirring for 5 minutes or until translucent. Add to veggie stock.
Add tomatoes, brown sugar and tomato paste. Bring to a boil.
Reduce heat and simmer for 15 minutes until slightly reduced.
Using immersion blender (or countertop blender), puree adding basil in the final stage. Reheat if necessary.
Serve ½ cup sized portions.