Tabbouleh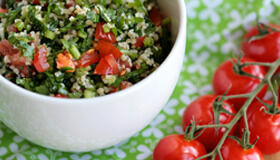 SERVES:
6 portions
RECIPE TIME:
20 minutes
What you need:
¾ Cup Bulgur
1¼ Cups Water
¼ Cup Olive Oil
¼ Cup Lemon Juice
1 Tbsp Minced Garlic
¼ Cup Diced Onion
¾ Cup Chopped Parsley
2 Tomatoes, Chopped
What to do:
Make sure to wash your hands before you begin.
Combine bulgur and water and bring to a boil. Reduce heat and simmer for about 20 minutes. Strain and let cool for 15 minutes
In a medium bowl, combine oil, lemon juice, and garlic and whisk together.
Add parsley, tomatoes and onion to the bulgur. Add dressing and toss all ingredients.
Serve as an appetizer with hummus and pita!