Stunning Strawberry Muffin
Fork Facts:
Often the first fruit to ripen each year, strawberries are a delicious sign of summer! Strawberries make a sweet, flavourful and nutritious addition to our Stunning Strawberry Muffins and are packed with vitamin C and manganese. This tasty summer fruit is grown in every single province in Canada and despite their name, strawberries aren't berries at all, but are members of the rose family. Delicious fresh off the vine or baked into tasty snacks, strawberries are an amazing summer treat!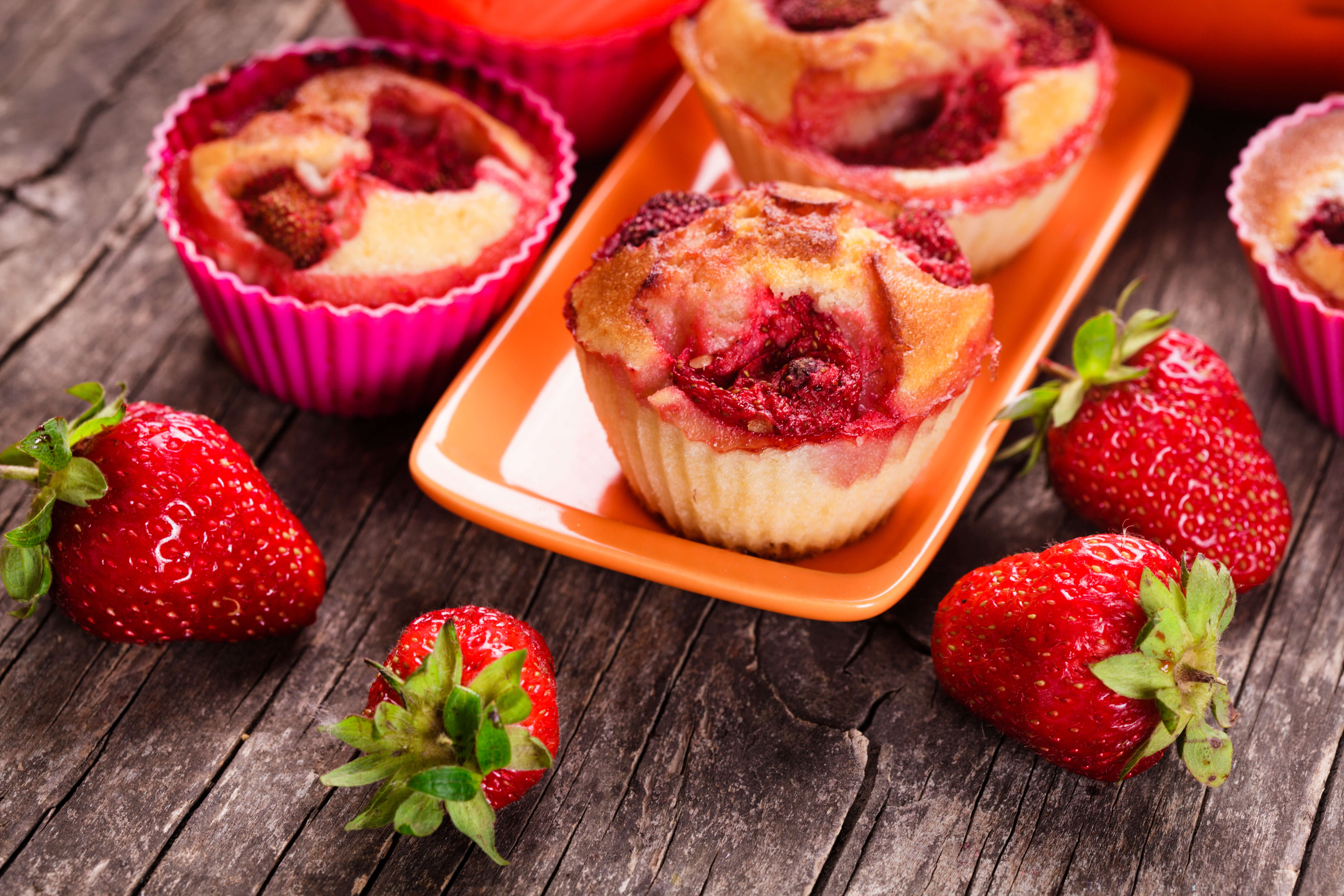 SERVES:
16 portions
RECIPE TIME:
50 Minutes
Palate Profile
Strawberries are a perfect addition to any summer recipe because they are fresh, sweet and crisp with a touch of tartness. Bright, deep red strawberries have a soft texture, delightful taste and fragrant aroma. Less ripe strawberries are lighter in colour with a crisp texture, slightly tart flavour and fresh aroma. This fruit is a great way to brighten up salads and a natural way to sweeten baked goods. When baking with strawberries, fresh are great but frozen berries are a perfect alternative that are equally as nutritious. For an extra pop of flavour, top your muffins with fresh chopped strawberries for a beautiful berry balance!
Additional Tips:
If you have let your strawberries go overripe, don't get rid of them just yet! They are perfect at this stage to use for jams and jellies that can be stored for use over many months.
In savoury dishes, strawberries are great paired with fresh basil and balsamic vinegar in a fresh summer salad.
For fresh strawberries all year long, pick up a big batch in the summer, wash, chop and freeze them on a lined baking sheet then transfer to a freezer bag once frozen. Use these for smoothies, baking or add to water for a refreshing drink.
Strawberries are often paired with rhubarb in pies, crisps and loaves as they perfectly balance each other's sweet and tart flavor profiles.
What you need:
1 ½ Cup Whole Wheat Flour
2 Egg*
½ tsp Baking Soda
2 tsp Cinnamon
¼ tsp Sea Salt
1 Cup Strawberry
1 Cup Sugar
3 tbsp Veggie Oil
¼ tsp Vanilla
What to do:
Make sure to wash your hands before you begin.
Preheat oven to 350F.
In a large bowl, mix the flour, baking soda, cinnamon and sea salt.
In a separate bowl, mix the veggie oil, eggs, vanilla and sugar.
Stir the oil mixture into the flour mixture just until moist.
Fold in the strawberries.
Spoon mixture into a lined muffin tin.
Bake for 25-30 minutes or until a toothpick inserted into the centre of the loaf comes out clean.
Cool pan for 10 minutes.
*Substitute with flaxseed meal to make it egg free. For every 1 egg, mix 1 Tbsp of flaxseed meal with 3 Tbsp of water, and allow it to thicken for 15 mins.