Strawberry Smoothie Bowl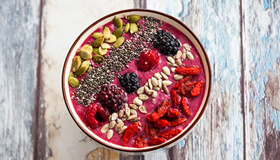 SERVES:
6 portions
RECIPE TIME:
5 - 10 Minutes
What you need:
1 Cup Strawberries
1 1/2 Cup Milk
1 Cup Vanilla Yogurt
What to do:
Make sure to wash your hands before you begin.
Thoroughly wash and clean the strawberries.
Remove green stem from all berries.
Cut all strawberries into halves.
Add berries to blender.
Add milk and yogurt.
Blend until smooth.
Serve 1/2 cup portions in a bowl.
Add toppings to taste!