Spiced Pumpkin Muffin
Fork Facts:
Carrots are said to help your eyesight, but pumpkins are another incredible source of Vitamin A which has been proven to aid vision! One cup of cooked, mashed pumpkin contains 200 times the recommended daily intake of this visionary vitamin!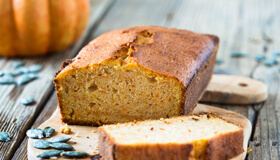 SERVES:
24 portions
RECIPE TIME:
25 - 30 Minutes
Palate Profile
No one likes a dry loaf! To ensure your loaf is moist and super yummy add apple sauce to it to help it maintain a desired consistency!
Additional Tips:
Try adding cream cheese as a cooling topping to enhance the sweet and warm fall flavours of the loaf!
Add cranberries to your loaf to alter the texture and add another fall favourite to this autumn inspired bread!
What you need:
1¾ Cup Whole Wheat Flour
½ tsp Baking Powder
½ tsp Baking Soda
½ tsp Sea Salt
½ Cup Sugar
¼ Cup Brown Sugar
2 Tbsp Maple Syrup
1 tsp Vanilla
1½ tsp Cinnamon
½ tsp Nutmeg
½ tsp Ground Cloves
½ tsp Allspice
2 Eggs
½ Cup Water
1 Cup Pureed Pumpkin
½ Cup Veggie Oil
What to do:
Make sure to wash your hands before you begin.
Preheat oven to 350 F.
Mix flour, baking powder, baking soda and salt in a medium sized bowl. Blend in sugar, brown sugar, cinnamon, nutmeg clove, and allspice.
In a large mixing bowl beat eggs, vanilla, maple syrup, pumpkin, water and vegetable oil. Slowly add dry ingredients to wet, stirring until smooth and moist.
Pour mixture into parchment lined loaf pan. Bake for 65 minutes.
*Substitute with flaxseed meal to make it egg free. For every 1 egg, mix 1 Tbsp of flaxseed meal with 3 Tbsp of water, and allow it to thicken for 15 mins.