Butternut Squash Soup
Fork Facts:
Just by looking at the rich orange colour of butternut squash you can begin to realize its nutrient potential!
The deep hue of the flesh indicates a high carotenoid concentration that has been shown to keep you
super healthy!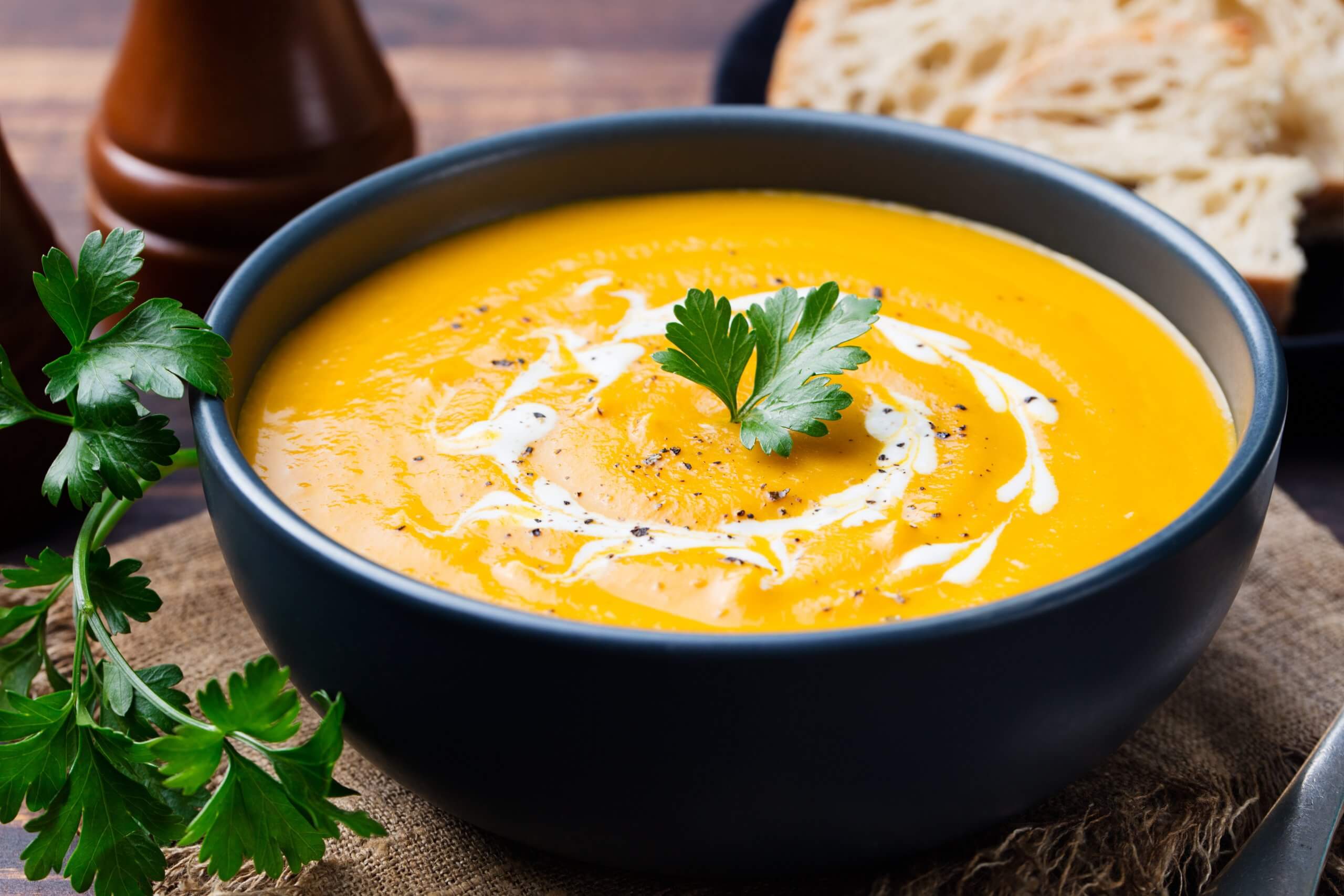 SERVES:
6 portions
RECIPE TIME:
45 - 60 Minutes
Palate Profile
To spice up your soup try adding cayenne pepper, allspice, nutmeg, or ginger to the mix! You can easily make a Thai Butternut Squash soup that packs a punch by adding Thai chili paste, coconut milk, lime, and ginger!
Additional Tips:
You've done roasted pumpkin seeds so why not try delectable roasted butternut squash seeds! Roast them just as you would pumpkin seeds, making sure that the shell of the seeds are nice and crisp!
When buying your squash be sure to pick one that has no visual blemishes and feels heavy when picked for its size. Also ensure that its skin isn't glossy, as this indicates that it was picked too early and won't taste as sweet as a full grown squash or be as nutritious!
What you need:
3 Cup Butternut Squash, Halved
1 Tbsp Olive Oil
½ Cup Apples, Peeled and Diced
½ Cup Diced Onion
1 tsp Sage
3 Cup Veggie Stock
What to do:
Make sure to wash your hands before you begin.
Preheat oven to 400F.
Place squash on parchment lined baking sheet. Brush with olive oil and roast until tender, about 30-40 minutes. Once cooked remove from skin.
Meanwhile, peel, core and cut apple into a medium sized dice. Cook apple, onion and sage in a large saucepan on medium heat until softened (about 7 minutes). Add veggie broth and bring to a boil.
Reduce heat and add roasted squash for about 15 minutes. Remove pan from heat to cool. Puree the soup until smooth.