Butternut Squash Soup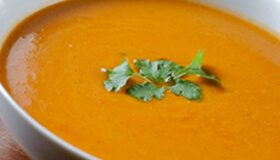 SERVES:
6 portions
RECIPE TIME:
45 - 60 Minutes
What you need:
3 Cup Butternut Squash, Halved
1 Tbsp Olive Oil
½ Cup Apples, Peeled and Diced
½ Cup Diced Onion
1 tsp Sage
3 Cup Veggie Stock
What to do:
Make sure to wash your hands before you begin.
Preheat oven to 400F.
Place squash on parchment lined baking sheet. Brush with olive oil and roast until tender, about 30-40 minutes. Once cooked remove from skin.
Meanwhile, peel, core and cut apple into a medium sized dice. Cook apple, onion and sage in a large saucepan on medium heat until softened (about 7 minutes). Add veggie broth and bring to a boil.
Reduce heat and add roasted squash for about 15 minutes. Remove pan from heat to cool. Puree the soup until smooth.