Pumpkin Booster Bite
Fork Facts:
Can you believe granola bars have been around since 1863? All these years and it still continues to be everyone's go-to, tasty snack. Granola bars can be made to anyone's preference making it such a great option for all. It can be cut into shapes, altered to all kinds of tastes using almost any ingredient you can think of. There are many benefits of granola bars aside from being delicious some of which include: boosting energy, preventing anemia, helping increase cognitive activity, and it is a great source of Vitamin E, protein and fiber.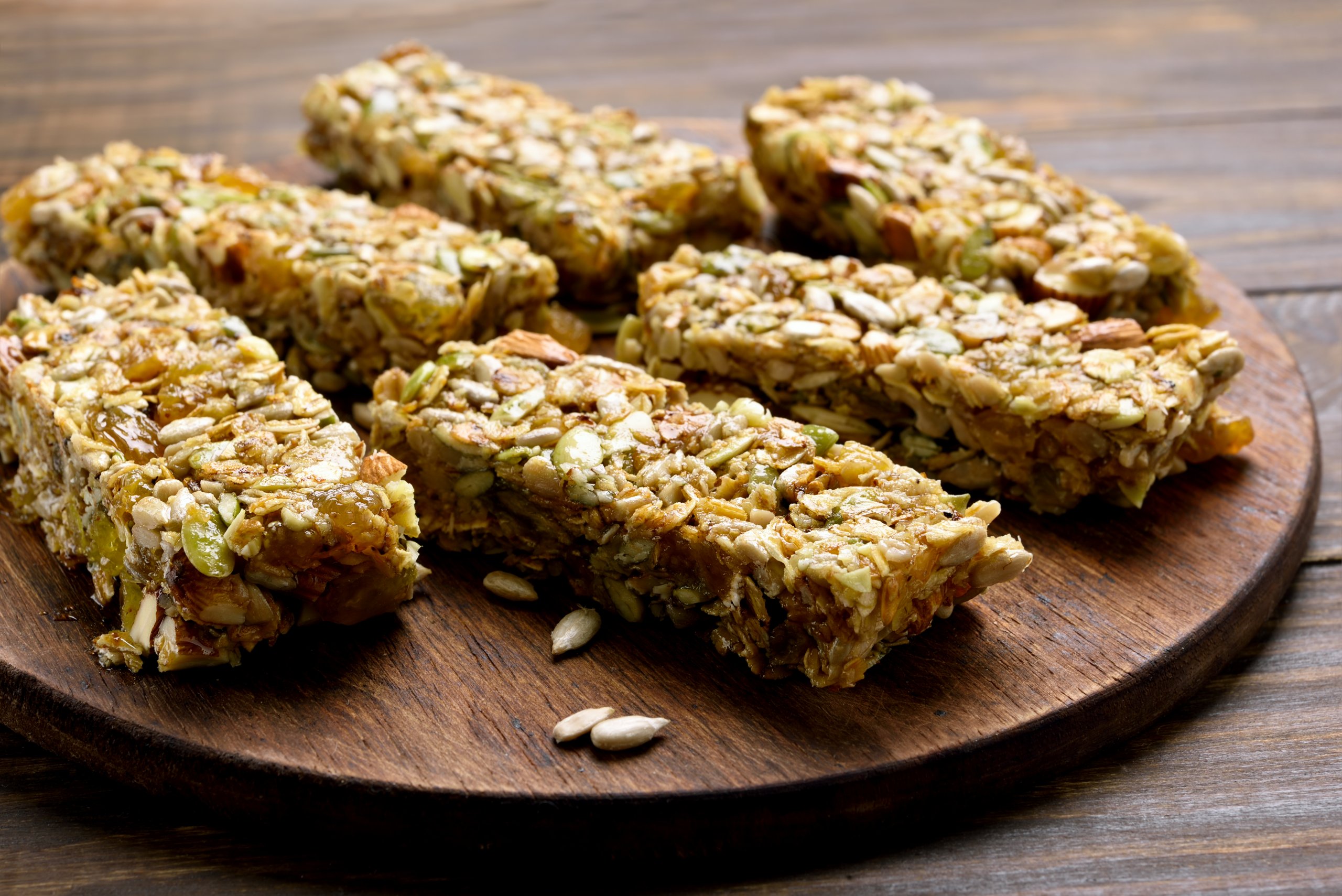 SERVES:
24 portions
RECIPE TIME:
1 Hour
Palate Profile
Our Pumpkin Booster Bite is fun to make and bursting with textures, flavours and colours! It can be sweet or salty, which means you can play around with different ingredients to come up with a recipe that works best for your family. Remember to add dried fruit and oats so they can reap the benefits! When you finally find that magical combination of ingredients, out comes a perfectly chewy and moist bar that leaves your taste buds singing! My kids love these, and I have a feeling these may be requested well past pumpkin season.
Additional Tips:
Granola bars actually have their own national day – January 21st! What a perfect excuse to make some more Pumpkin Booster Bites!
Try adding some unconventionaltoppings like yogurt chips or dates for some extra sweetness or play around with alternative dried fruits and nuts for a savoury taste. (Allergy permitting)
What you need:
6 Tbsp Dried Cranberry
¾ Cup Orange Juice
¾ Cup Oats, Toasted
6 Tbsp Pumpkin Seeds
¾ Cup Maple Syrup
1 ¼ Cup Coconut Milk
2 tsp Vanilla
¾ Cup Sugar, Granulated
Pinch of Sea Salt
½ Cup Rice Krispies, GF
6 Tbsp. Dried Apples, Chopped
½ tsp Cinnamon
What to do:
Make sure you wash your hands before you begin
Preheat the oven to 300°F. Prepare a 9x9 inch baking dish by lining with parchment paper.
Combine orange juice and cranberries to soak.
Spread oats and pumpkin seeds out in an even layer.
Bake for approximately 5-8 minutes, watching closely for the oats to turn brown and become fragrant.
In a saucepan, bring maple syrup, coconut milk, vanilla, sugar and salt to a simmer over medium heat. Stir and reduce for 30 minutes. Set aside.
In a mixing bowl, combine all remaining dry ingredients. Stir in the oat mixture and pour in the wet ingredients combining until evenly coated.
Press mixture into the prepared baking dish and use another piece of parchment paper on top and compress.
Bake for 20 minutes then pack or press down while hot.
Place in the refrigerator to cool. Cut into bars and serve once chilled.