Power Pumpkin Bar
Fork Facts:
For many of us, just the sight of pumpkins is a sign that autumn has arrived. There is more to the pumpkin than the highly coveted Pumpkin Spice Latte. Pumpkins can be carved, baked, roasted, steamed or boiled. Pumpkin is a very versatile, nutrient-dense food. It's rich in vitamins and minerals while also being low in calories! Pumpkin pulp and seeds are high in both vitamin C and beta-carotene. These powerful nutrients can even boost the immune system. Technically speaking, due to their seeds, pumpkins are fruits. When cooking, they are often thought of or referred to as vegetables. Pumpkins are in the squash family, one thing that sets pumpkin apart from its sisters in the squash family is that its seeds are edible — and delicious!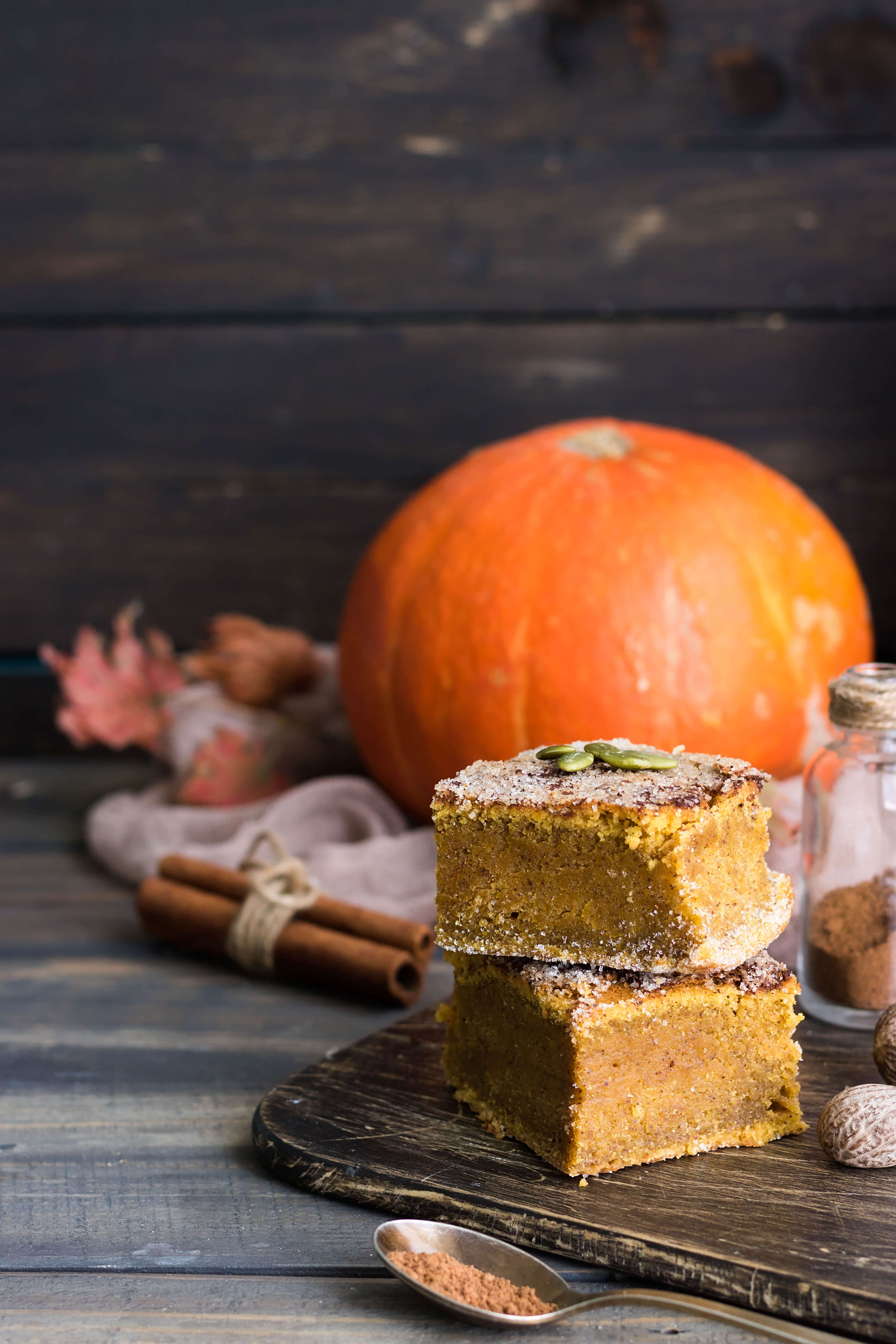 SERVES:
24 portions
RECIPE TIME:
1 Hour
Palate Profile
Pumpkins are a wonderful addition to many recipes. Most people tend to think of the spices that are often incorporated into pumpkin dishes — namely cinnamon, nutmeg and allspice — more than the mild, sweet flavour of the pumpkin itself. Beyond the delicious Thanksgiving dessert, pumpkin pie, there are many ways pumpkin can be integrated into baked goods, soups and salads; it can even be used as a substitute for butter! Pumpkin dishes can be both savoury and sweet. While the bigger pumpkins are better for carving, it's actually the smaller variety, sugar pumpkins, that provide the best flavour and texture in recipes.
Additional Tips:
If you're cooking with fresh pumpkin, look for varieties like Small Sugar, New England Pie and Long Island Cheese. Large carving pumpkins have tough and less flavourful insides.
Try making your own pumpkin purée instead of buying canned. Canned varieties often have a lot of unwanted sugar and preservatives.
If you're looking for a healthy or dairy-free alternative to butter — try pumpkin purée instead. To substitute pumpkin purée for butter, multiply the amount of butter by 3/4.
If you find your homemade pumpkin purée too watery, transfer the mixture to your strainer or cheesecloth-lined colander and let it drain for an hour or more!
What you need:
2 Cup Oat
½ Cup Pumpkin Puree
1 Cup Coconut Milk
½ Cup Brown Sugar
1 tsp Vanilla
1 tsp Cinnamon
1/4 tsp Nutmeg
1/4 tsp Cloves
1/4 Cup Veggie Oil
1 Tbsp Chia Seed
½ tsp Baking Powder
½ tsp Baking Soda
1/4 tsp Sea Salt
1 Egg
What to do:
Be sure to wash your hands before you begin.
Preheat oven to 350 F and line an 8x8 baking dish with parchment paper.
Process half of the oats in a food processor until it becomes a fine flour. Set aside.
Add coconut milk pumpkin puree, sugar, veggie oil, egg and vanilla to a large bowl then whisk to combine. Add remaining oats, oat flour, chia seeds, spices, baking powder, baking soda and salt, then stir to combine.
Pour the mixture evenly in the lined baking dish.
Bake for 35-40 minutes until golden brown and firm to touch.
Remove from the oven and allow to cool.
Cut into squares and serve.