Party Polenta
Fork Facts:
Polenta is a porridge-like dish originating from Italy. It is usually made from ground corn (maize) cooked in salted water. Cheese and butter (or oil) are often added for taste. Polenta can be eaten hot or cold. When cooled, polenta firms up and can be cut into fun shapes – your kiddies will love this! Then it can be baked, toasted, or pan-fried, any way you prefer! This is a great alternative to your basic starches as it is a complex carbohydrate, meaning it provides long-lasting energy and helps maintain steady blood sugar levels. Polenta is a great source of fibre, vitamin A, essential minerals, iron, magnesium, and zinc. Best of all, it is a delicious dietary substitution because it is gluten-free and low in fat! Try it at home and add your family's favourite toppings, such as goat or feta cheese, sun-dried tomatoes and fresh basil.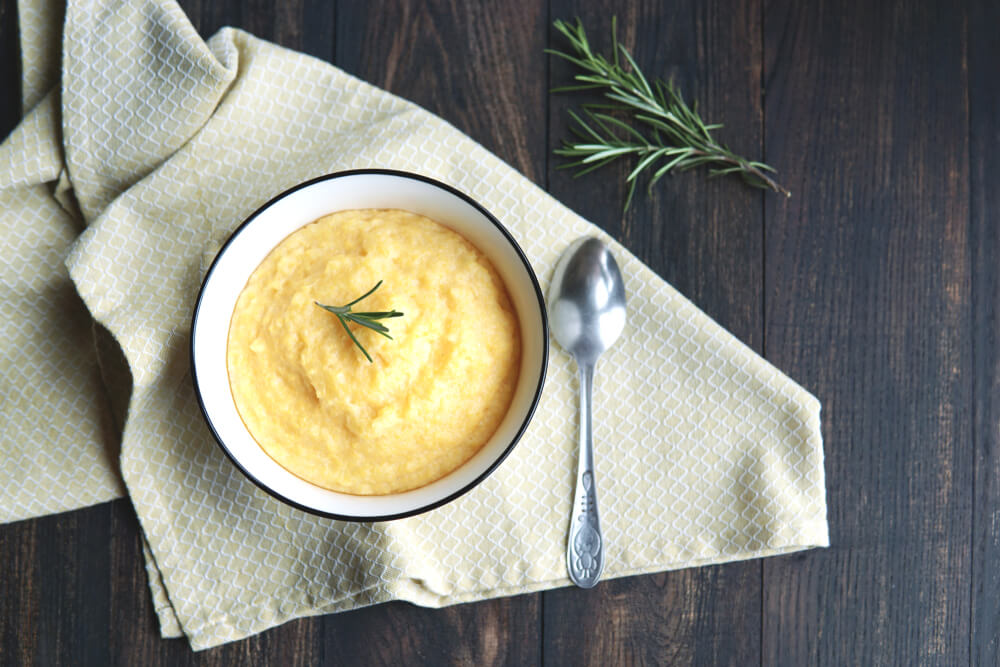 SERVES:
16 portions
RECIPE TIME:
45 mins - 1 Hr
Palate Profile
Polenta is the perfect creamy, winter dish made with simple ingredients that you likely already have in your pantry! This rich golden dish can be both a side or the star of your dish! It's low in protein and fat, and pairs well with meats, seafood, vegetables and cheese. There are numerous ways to experiment with your polenta to make it suitable to your palate. To enhance the flavour, try adding a mix of fresh, aromatic herbs like basil, rosemary and oregano! The most important ingredient when making polenta is the butter. I love melting butter into my polenta, flavouring it with hints of sweet cream, then adding savoury olive oil and flaky sea salt. To step it up a notch, try cooking it in veggie stock instead of water!
Additional Tips:
Polenta will solidify into the shape ofthe container in which you store it. Leftover polenta can be sliced or cubed before being roasted or grilled.
To make it creamy again, warm it with a little broth, milk, or water, and stir vigorously. It won't be quite as creamy as it was originally, but it should still be pourable and delicious.
The finerthe grain used to make the polenta,the creamierthe final product will be, and sometimes lengthier cooking times with more stirring can improve the texture.
A quick batch of polenta is easily turned into crispy oven-baked polenta fries that are beyond delightful. Toss these crispy fries with garlic parmesan herb butter and serve with creamy lemon aioli or ketchup!
What you need:
4 Cup Water
1 tsp Sea Salt
1 Cup Cornmeal
1-3 Tbsp Unsalted Butter
1 Cup Shredded Cheese (optional)
What to do:
Make sure you wash your hands before you begin.
Bring the salted water to a boil.
Pour the cornmeal into the boiling water in a steady stream whisking gently.
Continue whisking until polenta is thickened. Turn down the heat to low and continue whisking until the polenta has thickened enough that it doesn't settle back on the bottom of the pan when you stop stirring.
Cover the polenta and continue cooking. Stir vigorously every 10 minutes or so, making sure to scrape the sides, bottom, and corners of the pan. Cook 30 minutes for softer porridge-like polenta or 40 minutes for thicker polenta.
Stir in butter and cheese (if using) into the polenta. Serve immediately, or cover the pan and let it sit at the back of the stove for up to 15 minutes before serving.