Pancakes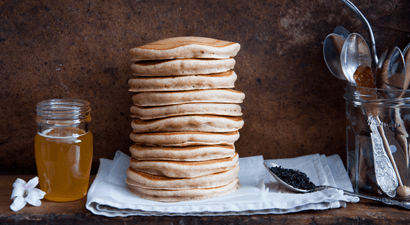 SERVES:
6 portions
RECIPE TIME:
5 - 10 Minutes
What you need:
1 ½ Cup Whole Wheat Flour
1 ¼ Cup Milk
3 tsp Baking Powder
1 Egg
3 Tbsp Melted Unsalted Butter
What to do:
Make sure you wash your hands before you begin.
Place all dry ingredients in mixing bowl. Then pour in milk, eggs, and melted butter. Beat milk, eggs and butter together until smooth.
Heat lightly oiled griddle over medium heat. Pour batter onto the griddle, using approximately ¼ cup for each pancake.
Lightly brown on both sides and serve hot.