Madagascar Tofu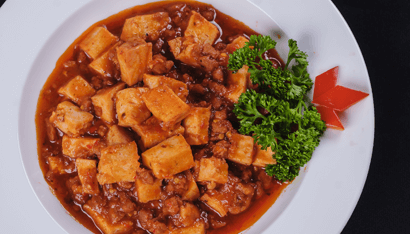 SERVES:
6 portions
RECIPE TIME:
30 - 35 Minutes
What you need:
2 lbs Diced Tofu
½ Cup Coconut Milk
1 Tbsp Curry Powder
1 tsp Thyme
1 tsp Cumin
1 tsp Nutmeg
1 tsp Ground Ginger
1 tsp Cinnamon
2 Tbsp Minced Garlic
1 Tbsp Veggie oil
½ Cup Diced Onion
1 Cup Diced Tomato
1 Tbsp Butter
1 Bay Leaf
What to do:
Make sure to wash your hands before you begin.
Combine dry spices together.
Combine spices with garlic and use this mixture to marinade tofu in the refrigerator.
Heat oil in a large skillet and cook onions until translucent. Add marinated tofu, diced tomatoes, butter, and coconut milk.
Bring mixture to a boil and then reduce to medium heat and simmer until sauce thickens, approximately 15-20 minutes.