Madagascar Chicken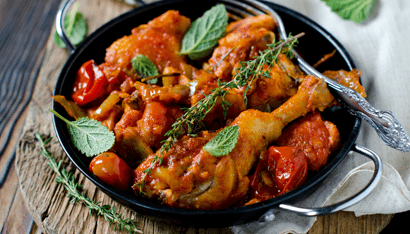 SERVES:
6 portions
RECIPE TIME:
45 - 50 Minutes
What you need:
2 lbs Diced Chicken
½ Cup Coconut Milk
1 Tbsp Curry Powder
1 tsp Thyme
1 tsp Cumin
1 tsp Nutmeg
1 tsp Ground Ginger
1 tsp Cinnamon
2 Tbsp Minced Garlic
1 Tbsp Veggie oil
½ Cup Diced Onion
1 Cup Diced Tomato
1 Tbsp Butter
1 Bay Leaf
What to do:
Make sure to wash your hands before you begin.
Combine dry spices together.
Combine spices with garlic and use this mixture to marinade chicken in the refrigerator, overnight if possible.
Heat oil in a large skillet and cook onions until translucent. Add marinated chicken, diced tomatoes, butter, and coconut milk.
Bring mixture to a boil and then reduce to medium heat and simmer until sauce thickens and the chicken is fully cooked, approximately 30 minutes.