Lemon Poppy Seed Loaf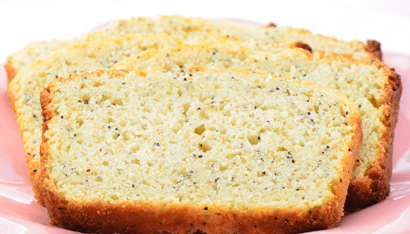 SERVES:
24 portions
RECIPE TIME:
60 - 70 Minutes
What you need:
1½ Cup Whole Wheat Flour
¼ Cup Milk
½ Cup Butter
¼ Tsp Vanilla Extract
2 Eggs
1 Tsp Baking Powder
1 Cup Sugar
¼ tsp Salt
3 Tbsp Poppy Seeds
¼ Cup Lemon Juice
What to do:
Make sure to wash your hands before you begin.
Preheat oven to 325F.
In a large bowl, beat butter with sugar until light and fluffy; beat in eggs, 1 at a time, beating well after each addition. Add vanilla.
In separate bowl, whisk together flour, poppy seeds, baking powder and salt; stir into butter mixture alternately with milk, making 3 additions of flour mixture and 2 of milk. Stir in lemon juice.
Pour mixture into a parchment-lined baking tray.
Bake in centre of oven 325F (160C) for 45 - 1 hour or until a toothpick inserted into centre of the loaf comes out clean. Cool pans for 10 minutes.