Fancy Fish Tacos
Fork Facts:
Can you say Taco Tuesday??? Everyone LOVES this traditional Mexican dish composed of a corn or wheat tortilla wrapped around a scrumptious filling. The perfect taco has two essential components: the protein and the toppings (the wackier the better!). The protein can be literally be anything including savory steak, pulled pork, barbeque chicken, or grilled seafood! If you are a vegetarian, beans and cheese will hit the spot as well! Before you chow down, don't forget to load up your taco with salsa, chili pepper, guacamole, cilantro, tomatoes, onions and lettuce! The pop of colour is what gives your taco flare! Don't bother with the utensils… this is definitely meant to be a messy finger food!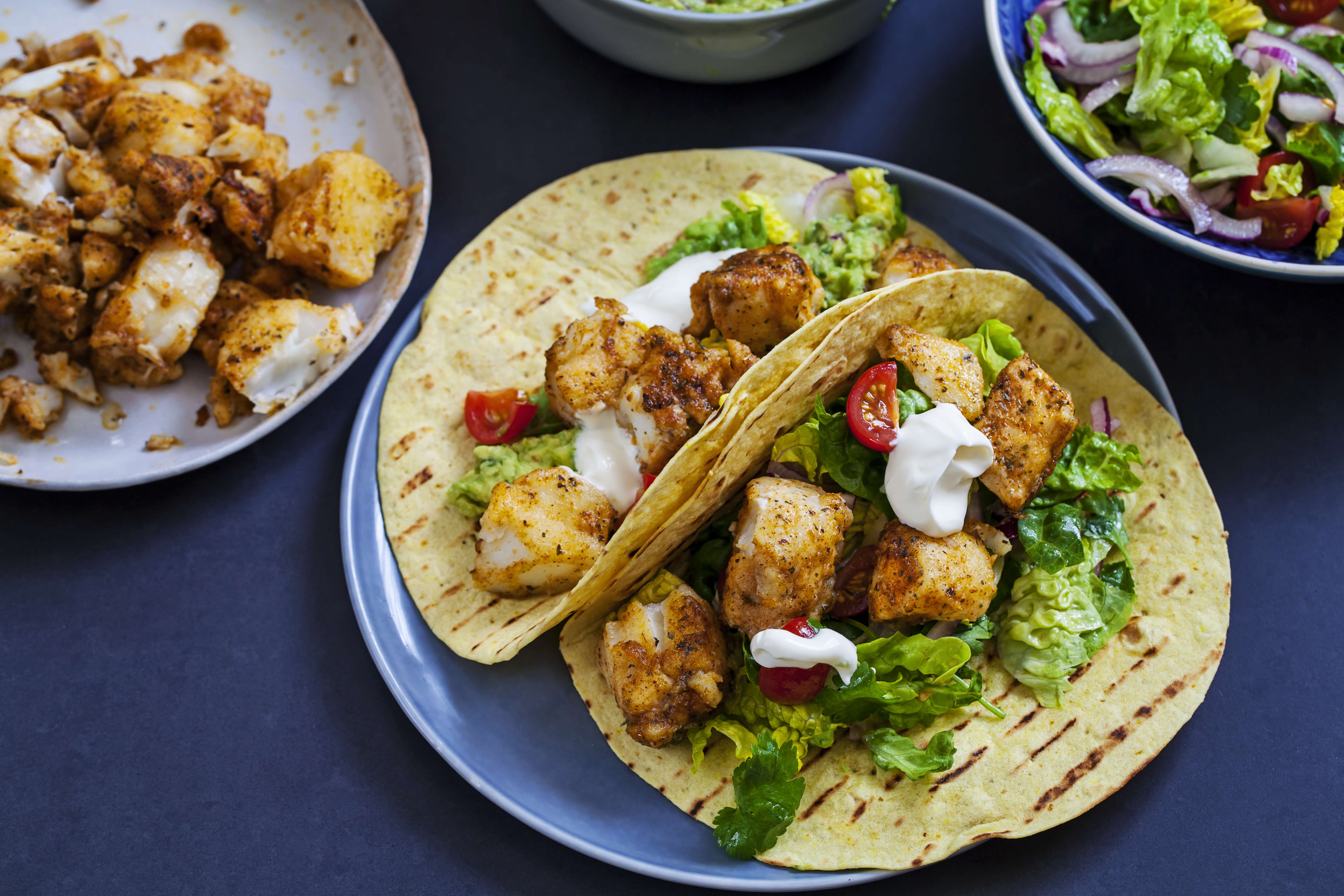 SERVES:
6 portions
RECIPE TIME:
30 minutes
Palate Profile
While the original fish taco is made with deep-fried fish, this recipe is made with baked fish to keep it nutritious while still being delicious! Mild whitefish such as haddock, cod and pollock are the best kind of fish to use for tacos because they are fluffy, light, and will hold their shape until they are comfortably wrapped in your taco! At the end of the day, it really doesn't matter what you choose to put in your tacos… as long as you have fun making them using fresh ingredients!
Additional Tips:
Char the sides of your tortilla on an open gas flame… it's a game changer!
Tacos taste great served with salsa, guacamole, coleslaw, and fresh herbs.
Taco spices normally include chili powder, garlic , oregano, cumin, pepper, salt and hot pepper flakes or jalapenos if you like it spicy!
What you need:
6 Fish Fillets
1 Tbsp Olive Oil
2 Tbsp Lemon Juice
1/2 tsp Minced Garlic
1/2 tsp Chili Powder
1 tsp Cumin
1/2 tsp Oregano
6 Whole Wheat Tortillas
1/4 Cup Grated Cheese
What to do:
Make sure to wash your hands before you begin.
Preheat oven to 350F.
Mix all spices together in a small bowl.
Line a baking sheet with parchment paper and place fillets in a single layer.
Brush fillets with olive oil, and sprinkle with spice blend and garlic.
Bake for 20 minutes or until fish is cooked through.
Place fish inside tortilla and top with grated cheese.