Corn Bread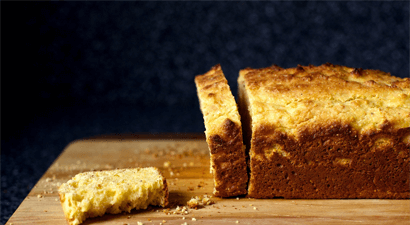 SERVES:
16 portions
RECIPE TIME:
30 - 40 Minutes
What you need:
1 Egg
2 Tbsp Canola Oil
¼ Cup Whole Milk
2 Tbsp Yogurt
1/3 Cup Sugar
½ tsp Vanilla
¼ Cup Melted Butter
1/3 Cup Corn Meal
¾ Cup Whole Wheat Flour
¼ Tbsp Baking Powder
¼ tsp Sea Salt
What to do:
Make sure to wash your hands before you begin.
Preheat oven to 400F.
In a large bowl mix together the wet ingredients; egg, oil, milk, vanilla, yogurt and melted butter.
In a separate bowl mix corn meal, flour, baking powder, sugar and salt. Stirring gently slowly add into wet ingredients until combined in a smooth batter.
Spoon batter into a greased bread pan or scoop individually into a greased muffin tin.
Bake for 15-20 min, or until a toothpick inserted comes out clean.