Chicky Noodle Soup
Fork Facts:
Have you ever wondered why this classic comfort food makes you feel so good? Studies show that chicken contains high levels of tryptophan, which assists your body in producing serotonin – meaning chicken noodle soup is a natural mood booster! Not only is chicken noodle soup a hearty option for the Fall, but it is also the go-to meal when you're looking for relief from a cold.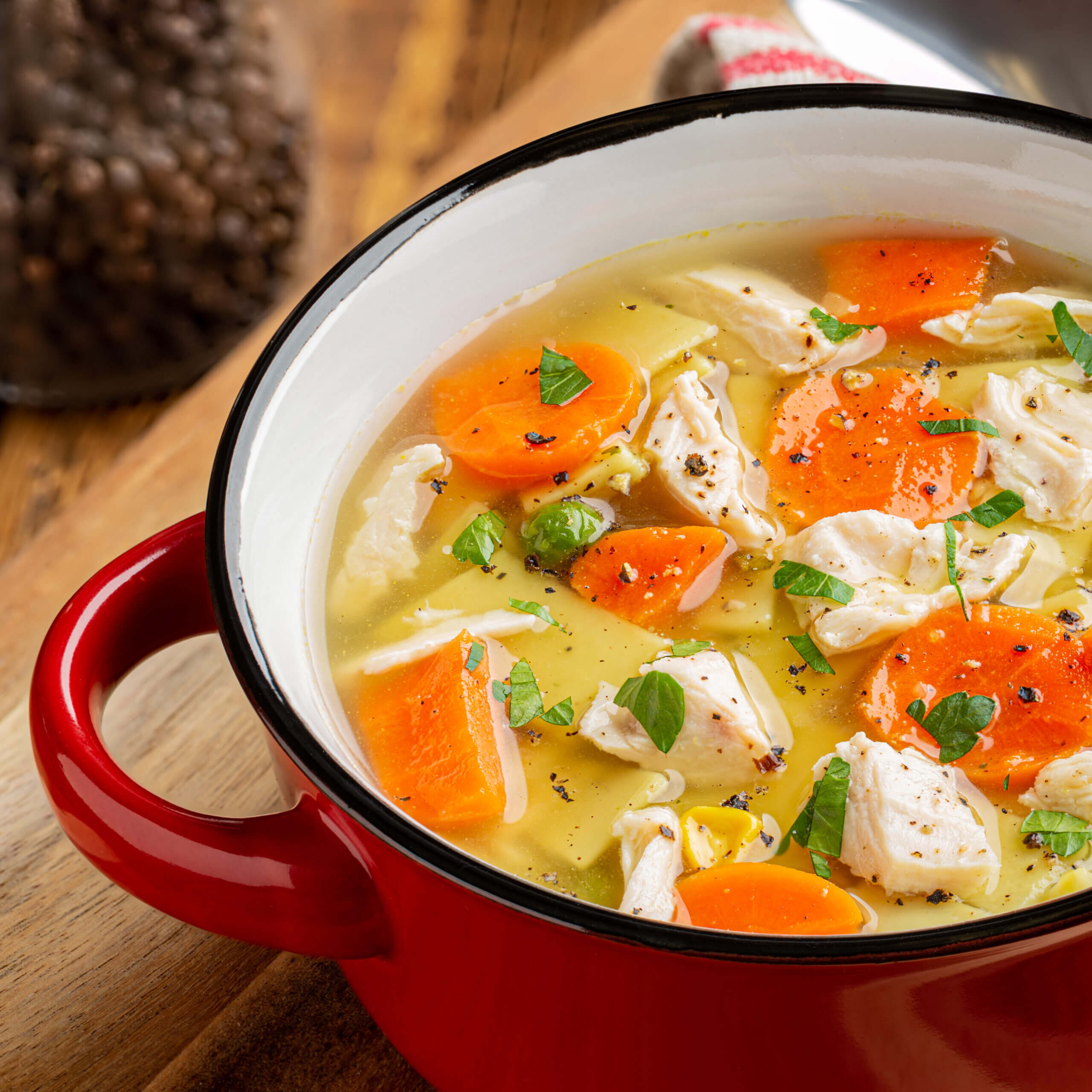 SERVES:
6 portions
RECIPE TIME:
30 Minutes
Palate Profile
Nothing beats that satisfying flavour of chicken noodle soup! The rich broth, the chewy noodles, and the colourful vegetables come together to make one perfect bite. The key to making an amazing chicken noodle soup is the addition of acidity such as lemon juice, and an aromatic blend of spices to elevate your palette. Don't forget to soak up the goodness with a yummy dinner roll!
Additional Tips:
Chicken bones are the real deal. They create such a rich, authentic chicken broth that can't be replicated! Try roasting them before adding them to the stock.
Use fresh herbs just before serving your soup to enhance the flavours adding warmth during chilliest of nights!
Try using different types of noodles and pasta to make your dish more fun!
What you need:
2 Tbsp Olive Oil
1 Cup Onion
1 Cup Carrot
1 Cup Celery
1 Tbsp Garlic
8 Cup Veggie Stock
2 Bay Leaves
3 Cup Cooked Diced Chicken
1 ½ Cup Whole Wheat Pasta, Dry
2 Tbsp Parsley
2 Tbsp Dill
1 Tbsp Lemon Juice
What to do:
Make sure you wash your hands before you begin.
In a large stockpot over medium heat, add olive oil, onions, carrots, and celery, and sauté, stirring occasionally, until tender, about 3-4 minutes. Stir in garlic until fragrant, about 1 minute.
Stir in veggie stock and bay leaves, add cooked diced chicken and bring to a boil; reduce heat and simmer, covered.
Stir in pasta and cook until tender, about 6-7 minutes.
Remove from heat; stir in parsley, dill, and lemon juice.
Serve immediately, enjoy!