Chickpea Curry Champion
Fork Facts:
Chickpeas are a nutrient dense food providing rich content of protein, dietary fibre, folate, and certain dietary
minerals such as iron and phosphorus. This versatile powerhouse traces its name through history to the
French or the garbanzo bean directly from the Spanish. It is a worldwide economical staple alternative protein
used in many different applications. Some varieties of chickpeas can even be popped and eaten like popcorn!
A very interesting Fork Fact especially for Vegans, is that the liquid derived from chickpeas called aquafaba can
be used as an egg white replacement to make delicious, fluffy meringue.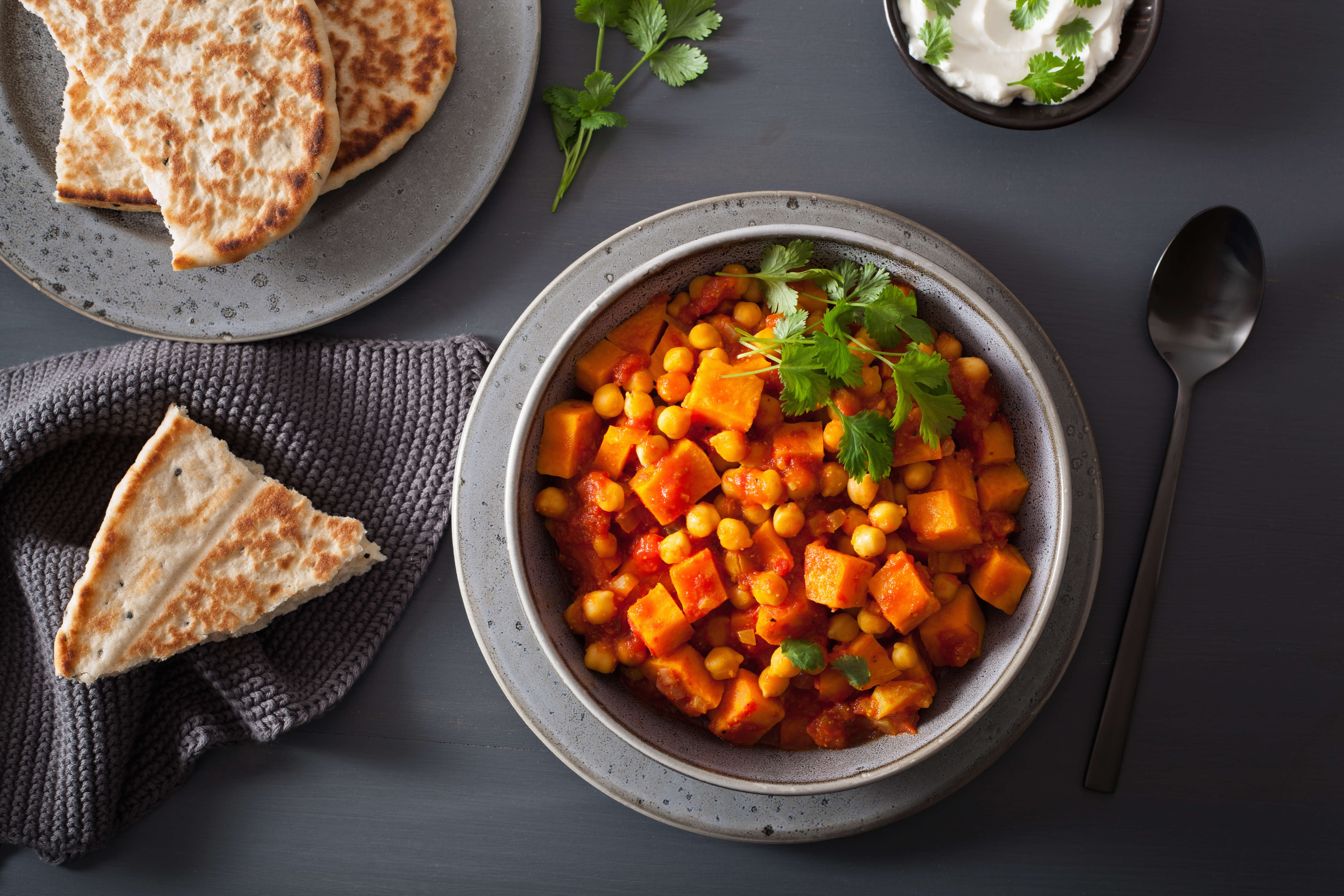 Palate Profile
Mature chickpeas can be eaten cold in salads, cooked in stews, roasted, spiced and served as a snack or ground into flour and shaped into falafel balls. When most people think about chickpeas they think about hummus which is the Arabic word for chickpeas. This energy boosting dip is often cooked and ground into a paste and mixed with tahini sesame seed paste. Hummus in North America has become very popular so you can now peruse the grocery aisle with all the sensational different toppings.
Additional Tips:
Those cans of chickpeas sitting in your cupboard have been hiding an amazing secret. Roasted in the oven, chickpeas transform into a crispy, salty, savory snack. So easy to eat by the handful!
Include tomatoes or whatever other veggies you desire to this creamy dish. Another great addition is to add roughly chopped fresh herbs and coconut on top, giving the stew a bright pop of flavour and colour.
Turn up the heat by adding harissa to really enhance the flavour explosion of sweet, savory and hot pairings in your mouth.
Top your hummus with chopped peppers, combine sundried tomatoes, blend avocado, sautée eggplant or add fresh herbs to be extra fancy! Serve with a boost of vitamin C from crispy veggies and dip the rainbow!
What you need:
3 Cup Chickpea
1 ½ Cup Sweet Potato
1 Tbsp Veggie Oil
½ Cup Diced Onion
2 Tbsp Minced Garlic
2 Tbsp Curry Powder
2 Cup Coconut Milk
1 tsp Minced Ginger
What to do:
Be sure to wash your hands before you begin.
Heat veggie oil in large pot, add garlic and onions and cook until translucent.
Add all other ingredients and bring to a boil.
Reduce the heat to a simmer and cook for about 20 minutes until sweet potatoes are tender.