Chicken Caesar Wrap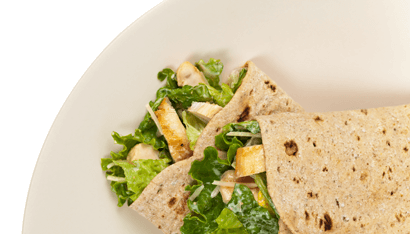 SERVES:
6 portions
RECIPE TIME:
10 - 15 minutes
What you need:
2 Tbsp Lemon Juice
½ Cup Olive Oil
¼ Cup Vinegar
1 Tbsp Dijon mustard
1 Tbsp Minced Garlic
2 Tbsp Parmesan Cheese
3 Cup Diced Chicken
6 Whole Wheat Tortilla
3 Cup Shredded Lettuce
What to do:
Make sure to wash your hands before you begin.
In a food processor, blend lemon juice, olive oil, vinegar, dijon mustard, and minced garlic to make dressing.
Toss lettuce in dressing. Portion ½ cup salad per tortilla and top with cooked diced chicken.
Sprinkle Parmesan cheese over chicken and roll tortillas into wraps and serve one each.