Cheezy Pizza Puffs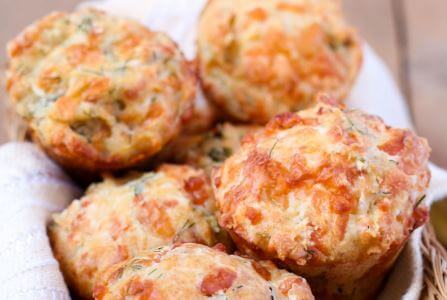 SERVES:
12 portions
RECIPE TIME:
20 - 30 Minutes
What you need:
2 Cup Whole Wheat Flour
¼ Cup Sugar
1 Tbsp Baking Powder
1 tsp Basil
½ tsp Baking Soda
1 Cup Cheddar Cheese
1 Cup Yogurt
2 Eggs
¼ Cup Melted Unsalted Butter
¼ Cup Tomato Sauce
½ Cup Shredded Mozzarella Cheese
What to do:
Make sure to wash your hands before you begin.
Preheat oven to 400F.
Grease a muffin pan.
In a large bowl, mix together the flour, sugar, baking powder, salt, basil and baking soda. Stir in cheddar cheese.
In a separate bowl, whisk together yogurt, eggs, and butter until smooth. Stir into flour mixture until well combined.
Scoop batter into muffin cups and then spoon 1 tsp of tomato sauce on top of each muffin. Sprinkle each with mozzarella cheese.
Bake for 20 minutes, until golden.