BBQ Chicken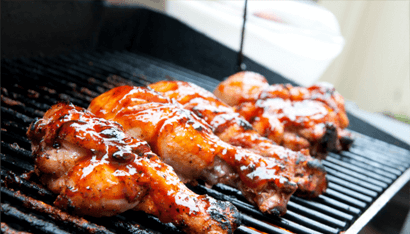 SERVES:
6 portions
RECIPE TIME:
45 - 60 Minutes
What you need:
1 Cup Tomato Sauce
¼ Cup Diced Onion
¼ Cup Molasses
¼ Cup Vinegar
¼ Cup Tomato Paste
2 Tbsp Dijon Mustard
2 Tbsp Minced Garlic
1 Tbsp Veggie Oil
6 Chicken Drumsticks or Breasts
What to do:
Make sure to wash your hands before you begin.
Preheat oven to 350F.
Cook onion and garlic in veggie oil until onions are translucent. Add remaining ingredients and bring to a boil. Simmer for 10 minutes.
Place drumsticks or breasts on a parchment lined baking sheet. Coat with BBQ sauce. Cook for 30-45 minutes or until chicken is fully cooked.