Beanny Biryani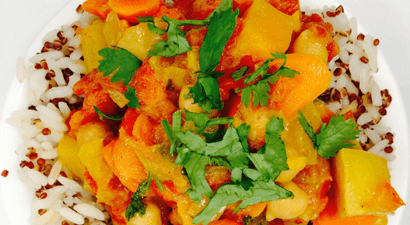 SERVES:
6 portions
RECIPE TIME:
40 - 50 Minutes
What you need:
1 Cup Lentils, Dry
1 Tbsp Veggie Oil
1 Cup Diced Onion
2 Tbsp Minced Garlic
2 Cup Broccoli, Cauliflower, Carrot
1 Tbsp Curry Powder
1 Cup Brown Rice
¼ Cup Raisins
4 Cup Veggie Stock
¼ Cup Peas
What to do:
Make sure to wash your hands before you begin.
Heat veggie oil over medium heat in a large pot; sauté onions and garlic until translucent.
Add veggie stock, brown rice, curry powder, and dried lentils into the large saucepan and bring to a boil over high heat.
Reduce to a simmer and cook until the rice and lentils are tender (about 40-50 minutes). Check mixture after 30 minutes and add more veggie stock if necessary and add the vegetables and raisins for the remaining cook time.