Bean Fajitas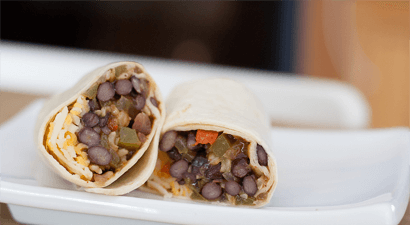 SERVES:
6 portions
RECIPE TIME:
10 - 15 minutes
What you need:
1 Tbsp Veggie Oil
1 Tbsp Minced Garlic
¾ Cup Diced Onion
2 Cup Beans
6 Tbsp Shredded Cheddar Cheese
6 Whole Wheat Tortilla
What to do:
Make sure to wash your hands before you begin.
In a large pan add veggie oil, onions, garlic and beans. Cook until onions are translucent and beans are hot.
Portion 1/2 cup of bean mixture on top of tortilla with shredded cheese and any other additional toppings to your liking.
Roll up tortilla and serve one each.