Baked Butternut Barley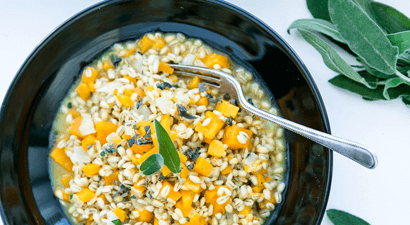 SERVES:
6 portions
RECIPE TIME:
45 - 60 Minutes
What you need:
1 Cup Barley, Dry
2 Tbsp Butter
1 Cup Diced Onion
2 Tbsp Minced Garlic
2 Cup Peeled and Diced Butternut Squash
2 Cup Veggie Stock
2 Tbsp Thyme
What to do:
Make sure you wash your hands before you begin.
Preheat oven to 350F.
Place diced squash on parchment lined baking sheet and roast until tender, about 30-40 minutes.
Add butter, onion and garlic to saucepan over medium-high heat and cook until translucent.
Add the barley and pour in the veggie stock.
Bring to a boil and add roasted squash. Then reduce heat to simmer, cover, and place in the oven.
Bake for 30 – 45 minutes.