Applelicious Crisp
Fork Facts:
Apple Crisp, or Apple Crumble as it's known in the United Kingdom, is a yummy dish created from baked apples and
topped with a sweet, crispy, oat crust. Apple Crisp is a British tradition that has made its way across the ocean and into
our hearts, particularly in the fall season when apples are plentiful and at their peak. There are 7500 varieties of apples
grown in the world! The secret to the perfect Apple Crisp is to use two varieties of apples: one firm and crisp and the
other soft and sweet. For example, combine the tartness of a Granny Smith with the sweetness of a Honeycrisp and
you'll be the apple of everyone's eye!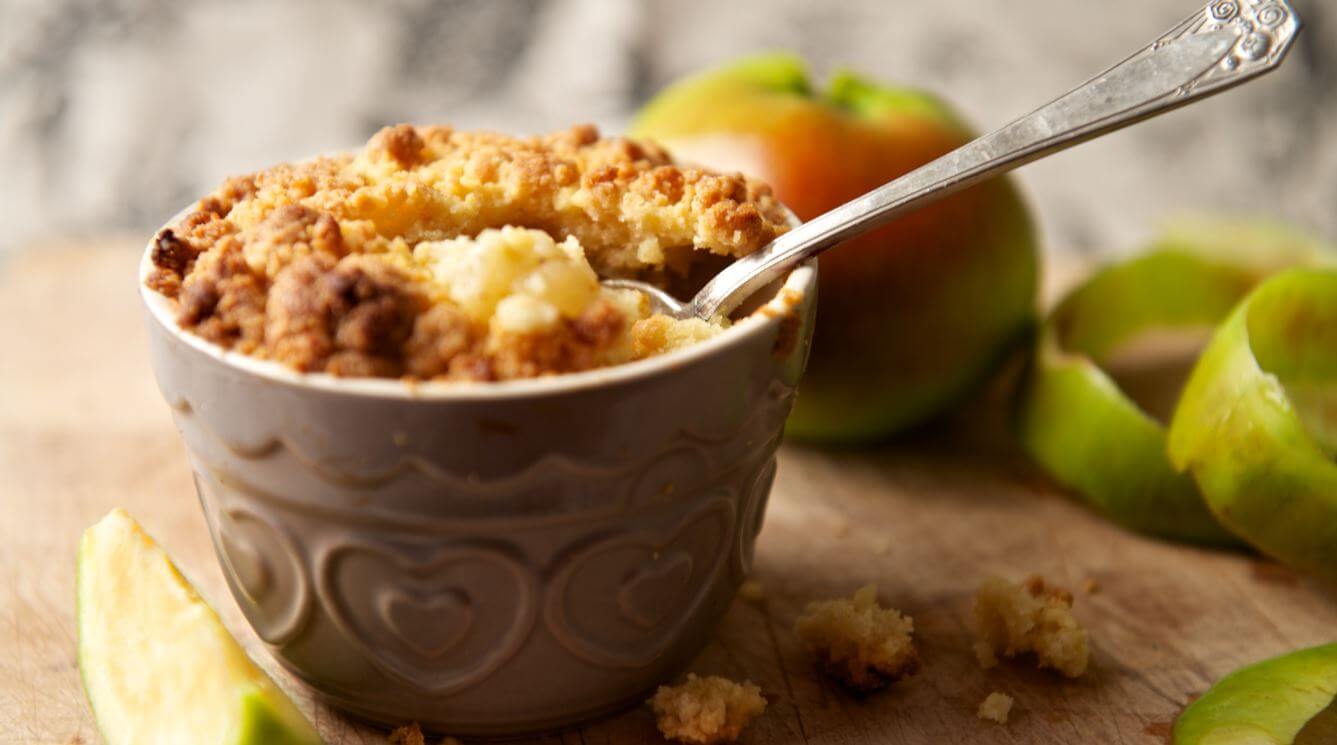 SERVES:
16 portions
RECIPE TIME:
1 Hour
Palate Profile
Apple Crisp is the perfect Fall dish that is made with simple ingredients that you already have in your pantry! Our Kidco Kitchen version is created with whole wheat flour for some added health benefits. Apple Crisp is popular in the colder seasons, served hot with rich vanilla ice cream or light, fluffy whipped cream. The oat- based crumble is crisp and buttery, balancing out the soft, sweet and sour apple filling, making it the most satisfying comfort food to enjoy by the fireplace!
Additional Tips:
Use crisp apples! Be sure to use apples that are at their peak. Softer apples will disintegrate and may throw off the texture of the dish.
Use a mix of apples — a mix of sweet and tart apples will make the perfect blend. We like the flavour combinations of Rome Beauty and Jonathan or Honeycrisp and Granny Smith!
Taste your apples before adding sugar to your filling. If your apples are super sweet, consider cutting back the sugar in the recipe to fit your taste preferences.
Stick to rolled oats. Quick oats, minute oats, or instant oats may interfere with the texture of the crumble.
Serve with a side of ice cream, whipped cream or mascarpone for an added treat!
What you need:
4 Cup Sliced Apples
6 Tbsp Brown Sugar
1 Tbsp Lemon Juice
1 tsp Vanilla
¾ Cup Whole Wheat Flour
1 tsp Cinnamon
1 Cup Oats
6 Tbsp Unsalted Butter
What to do:
Make sure you wash your hands before you begin.
Preheat oven to 350F.
Mix apples, 2 tablespoons of brown sugar, vanilla, lemon juice, ¼ cup flour and cinnamon in baking dish.
Prepare topping: combine the rest of the flour, brown sugar and oats.
Blend butter into the mixture using 2 knives until the topping resembles coarse meal. Sprinkle evenly over apples.
Place the baking dish in the oven for approximately 1 hour or until fruit is bubbling and the topping is golden brown.